I need help...
Can you Help?
Many of you who know me, and maybe some who have never met me in the flesh, know my love for my R2 unit. Alas, R2 passed away this last fall. I was devastated!
He was the most wonderful helper I ever had! He would whirl and whistle and beep and accomplish any task I set for him without complaint... well, till the day he died. I had been working him hard, perhaps too hard. He had finished perhaps the 2
nd
task I had set for him and I needed him to do one more before he rested. When I set him to go he made a few odd sounds then just sat there and looked at me. His predecessors all went in a similar fashion. R2 was my bread machine and once again I had burned out his motor. He was my 3rd in 4 years.
He was a vertical machine with a domed glass lid. *sigh* I loved that machine! I loved having fresh loaves of bread at every meal, pizza dough with little effort, rolls and buns as needed. Yeah to me a meal just isn't complete with out bread... no it's not an addiction, I can
handle
it!
Now this is were i need help. As you can tell I worked all my machines to death. I would use it almost daily and often twice a day. So I need a good machine, one made to actually be used! I had a sunbeam once poor thing lasted a few months before dieing a smoky death. They aren't make for daily use, only
occasional
use. So after looking around
abit
and day dreaming about homemade pizza,
fresh
bread, waking up to the smell of
cinnamon
baking... Sorry,
ummm
... So I Think I have it narrowed down to 2 machines. Both are rather an investment. So here they are.
Help me decide please!
Option 1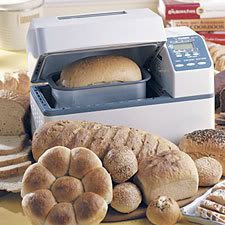 Zojirushi

Home Bakery Supreme Bread Machine:
This is truly the supreme bread machine! The
Zojirushi
offers advanced options for your bread baking. It gives you the choice of using the dough cycle by itself, then finishing in your regular oven. In addition, you can make dough for crisp pizza crust, light dinner rolls, mouth-watering cinnamon rolls, hamburger or
hoagie
buns, artisan breads, sourdough, gluten-free breads and cakes - the possibilities are endless. It even makes fruit jam and has the power and durability for hearty whole grain dough. Twin paddles provide superior kneading action so you get well-raised breads with great texture.
To use, simply place your unmixed ingredients in and choose your setting. The machine alerts you once your bread is ready. The control panel is set at the perfect angle for easy viewing, and the bigger-than-ever window lets you see what's happening inside. With this model, you can open the lid during operation, for adding fruits and nuts without resetting the cycle (it keeps running with the lid open). Choose from a full set of
pre
-programmed cycles for a variety of breads or create your own custom cycles. You can also program in your own favorite recipes for later use. Recipe & instructions booklet included.
Read more and Reviews here:
http://www.cooking.com/products/shprodde.asp?SKU=205876
Option2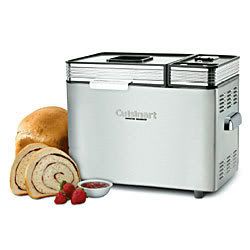 Cuisinart Convection Bread Maker:
Fresh bread doesn't get any fresher or easier than this! Cuisinart offers expert engineering with a bread machine that adjusts the speed and timing, circulating air while baking for breads that are bakery-style fresh. With this bread machine, you get a choice of 16
preprogrammed
menu options, a choice of three crust colors and three loaf sizes. Best of all, choose from over 100 bread, dough and pizza dough, sweet cakes and jams. For those who are health conscious, the Cuisinart bread machine lets you select Low
Carb
and Gluten-Free with preset menu options and recipes - a Cuisinart exclusive! Another special menu option is the Artisan Dough that takes basic bread dough through several long, slow cool rises for chewier textures and rustic crusts. Other features include a convection fan that circulates air for superior crust color and texture and an audible tone that indicates when it's time to add fruit, nuts or other mix-ins. A second tone offers the option of removing the paddle before baking or removing unbaked dough to shape by hand. There's a 15-minute Pause, Bake Only option, a 12-Hour Delay Start timer and Power Failure Backup. In brushed stainless, it's one bread machine you won't mind leaving out on the counter for daily use. Recipe book included.
Read more and
Revies
here:
http://www.cooking.com/products/shprodde.asp?SKU=314229
the first one I can get at Target the other I don't know...
PLEASE VOTE HELP ME DECIDE!