SO Excited!
I received an email confirmation the my new R2 unit is on the way!
I have to call the post office this morning to be sure they DO NOT deliver it here, but hold it there instead. We have...
issues
with light fingered neighbors.
I decided on the Cuisinart one!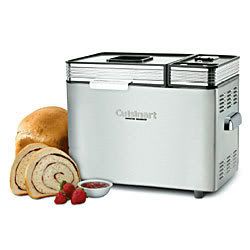 It's not very R2ish in appearance so it may end up with a different name... I'll have to ask My Love and Thunderous for other droid names.
When I went online to find a location that carried them, cuz I wanted the instant gratification of walking into a store getting it right then and there, I wasn't able to. It seems that everyplace I have in town was out of stock or
*gasp*
didn't carry them! Those places shall now be avoided as not being worthy of
this
sometimes goddess.
After consulting My Love I ordered it from Sears and got the warranty. My Love pointed out with my abusive track record of the machines I should really get some kind of coverage. I conceded to his insight and did so.
i have a new cook book and hope to have my new R2 unit bake some lovely things to go with the recipes we try (that way if the new recipe is a flop there is still wonderful hot bread!)
this waiting is very hard...