A few weeks ago Thunderous went ice fishing with his scout troop. He caught 5 fish that day and ate them all! He talked about nothing but fish, fishing, fishing poles, technique, lures...if it could possibly relate to fish he would make it.
Like many Obsessive episodes it got to the point that we all wanted to scream....and what did we do?
We bought him a fishing pole for his birthday.
My Beautiful Sister has a Cabela's near her house and was wonderful enough to go there and find him a pole...not just any pole... the PERFECT POLE. That's what he says.
His reaction isn't what people would want to see when excited about something. No yelling and jumping up and down. Nothing as obvious as that. No he is subtle. If you get a grin then you know it is
good
.
My Beautiful Sister also made his birthday cake!
Check this out: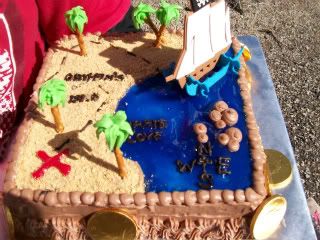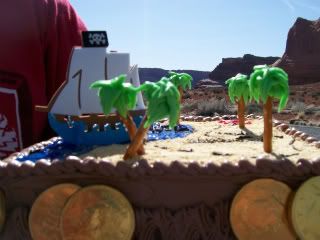 Did she do the most superb job or what?
He loved the cake! How do I know he loved it if he didn't jump up and down and exclaim or faint or what not?
He carried the cake around for 2 days.
That's not really as odd as it sounds at first...okay maybe it is.
We were at Arches national park(you can see some in the background) so he wanted to find just the right place to eat it. We never found a table, he had to have a table to eat it on. The 2 places for tables appear to be the Devils Garden area at the end of the road or the Visitors Center at the beginning. We were on our way home so finally he decided we would just eat it when we got home. He set it on the seat next to him and hovered over it protectively all the way home (4 hours, we took the scenic way). When we got home he decided it was too late. He wanted to enjoy the cake and now he was too tired to! I could not believe it!
We finally got to have a piece after breakfast. He declared it the best cake he had ever eaten! There was a moment when he was worried because Monster said she thought the water was made out of tooth paste. Then My Love said "Mmmm...minty!" I almost smacked them! but he made it better and told Thunderous he was just playing. It all ended well...the cake didn't last past lunch!
As you may know Thunderous' main Obsession is
All Things Water
. Pirates, Sailors, and wooden boats have been the main focus most of his life... so why didn't I see fishing coming? Maybe Grandpa influenced him with the tale of Whalers in the family history.
Needles to say after the ice-fishing he was...wait for it...Hooked! You may laugh now...or groan which ever works for ya.
When we met up with my beautiful Sister on Thursday to save her from Eldest she gave Thunderous his new fishing pole.
Again, he hovered over it protectively.
Again she scored big time!
So off is set another round of OCD about Fishing.
He carried the pole around. Told anyone who would listen, and the cockatiel or dogs when no one else would listen, about his pole about the lures about everything he knew about fishing. He looked at every piece that came in the small tackle box with the pole. He learned to tie a blood knot and the fishermen knot and practiced them over and over. When he got a 10 dollar bill from Grandma & Grandpa for his birthday we couldn't get him to Wal-mart fast enough. You should have seen his eyes when he stood in the isle with the rows and rows of lures! In true guy form he bought a
bigger
tackle box and some new lures.
And he has been fishing since.
If I can't find him he is outside practicing his cast into the drained pond. He asked My Love to walk the creek behind the house with him and show him the best places for fish and why.
This afternoon he looked up the almanac and wrote down all the good and best days for fishing.
He then spent the rest of the day outside, the fishing was Good for the Evening. I had to call him in for dinner, he spent the whole time telling us his adventures and ideas. As soon as he could he was out the door again, because after dinner it is Evening, you know.
Too soon he was back in..we thought his line had tangled again. Nope! He walked into the living room with this: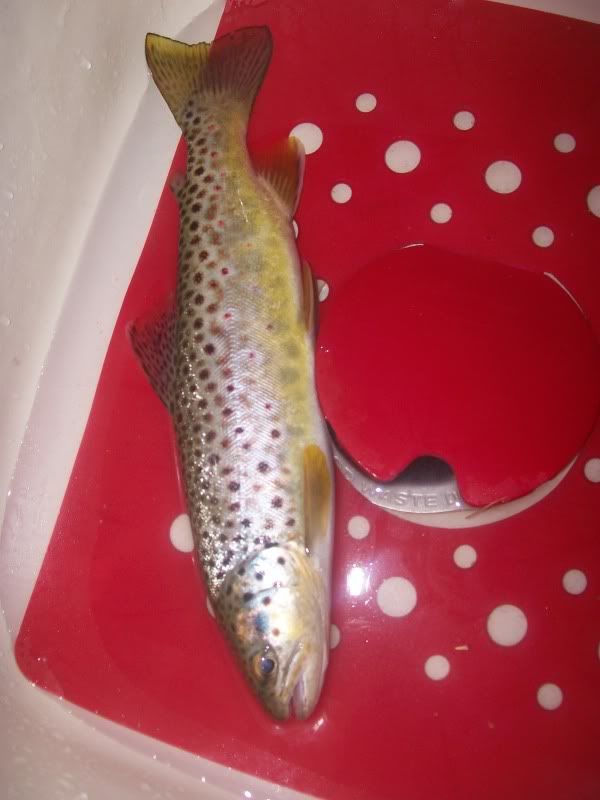 It was still swing on the line and flipping about...IN MY LIVING ROOM!
When he went to put it in the sink it landed in the dish water! It was not happy. "At least it's clean." He says.
We measured it. 11 1/2 inches. I don't have a scale to weigh it though.
We think it's a rainbow trout.
He was out the door to do more fishing in no time. He came in briefly to check what the almanac says for tomorrows fishing.
He came back in for the night too soon for him, his line tangled. He plans to find out more about fishing line soon...I sent him to the shower first.
Now
I
get the adventure of cleaning it?
Yeah, I don't think so.
Where is My Love?